A complete collection of all
It started as part of the final internship project when studying to become an archaeologist at the Linneaus University in Kalmar, Sweden. While doing the internship at the municipality museum, Kalmar Läns Museum, I had the great fortune of developing a  method for artifact photography that could center around the site of Sandby Borg.
Having only excavated a fraction of the large ring fort and knowing that it would be a multi year project, the problem was to document it year by year and still maintain a similar look to the images. Another issue was that of the look itself. As the objects are proper jewelry they should be presented as such. The result was PhotArch.
The goal is to present artifacts as a visually cohesive whole in the form of a fine art project with scientific use.
For an example please visit Photarch.com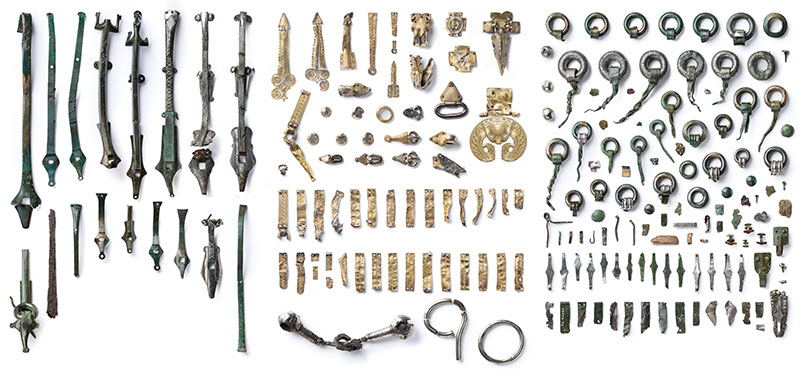 The complete collection of the Sösdala artifacts . Presented in scale.
All images are made in collaboration with the museum in custody of the artifact. The images are set free as low resolution versions under Creative Commons and must be credited with both photographer and the museum. The Property Release belongs to the museum and the copyright remains with the photographer. All commercial use, such as prints and publications must be licensed by the photographer.
The idea is to showcase our collected heritage. To do this all photographs are free to be shared and viewed under Creative Commons 4.0. This does not allow for any commercial licensing. The project is financed through the sale of prints, books, exhibitions and image licensing for further publication.